If you have a boat, you've perhaps seen people towing water toys and deliberated about getting one for a fun time on the water with your friends. But you're not sure how to pick the best towable tubes, how safe they are, and whether your kids can enjoy them too.
Towable tubes are a great idea and a fantastic fun way to bond with your friends and family. Keep all the normal safety matters in mind that would apply to safe boating. But also ensure you are especially vigilant coming back to shore.
Also read: Airhead Towable Tubes Reviews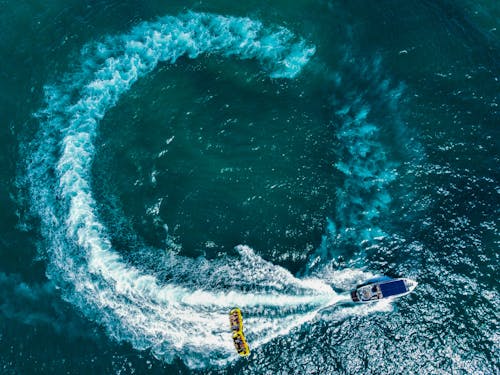 7 Best Towable Tubes Reviews 2023:
Airhead has some excellent products including the Super Mable Tube. The inflation and deflation rate is quite fast since it uses a patented speed safety valve. Also, it includes the two tow points at the front and back.
The construction quality is premium incorporating a heavy-duty nylon cover that also includes a zipper. The pads are comfy and suitable for the perfect ride experience. There are multiple grip knobs also available.
Pros:
Quick inflation.
Smooth ride.
Knuckle guards included.
Backrest and front rest are comfy.
Cons:
The seams can tear if the product is not used as intended
This is another big tube from Airhead that went through redesigning with added extra benefits for riders. The new version includes better backrest support, and also the side walls are now air-cushioned.
The front and back tow points give extra support, and the front/backrest is augmented. The material used for manufacturing is a hard-wearing full nylon cover that also includes a zipper. There is more than one grip handle plus guards.
Pros:
It includes a safety valve.
The foaming pad is comfy.
Can hold two riders.
Cons:
It only includes one quick connection.
The Kwik-Tek from Airhead is another amazing towable tube to consider. It offers a bunch of beautiful features that support your water game plans.
The three chambers are made of thirty-gauge vinyl. It includes a nylon cover that is double-stitched to ensure optimum built-in quality.
The knuckle guards are neoprene and the handle includes a nylon wrap over it. The seat pads are comfortable enough to enjoy a smooth ride. Th e Kwik-connect is an added feature.
Pros:
Kids love it.
Lightweight enough to carry
Easy to deflate.
Durable covering.
Cons:
The quickest inflation and deflation time is the best thing that only Sportsstuff tubes provide. Another model from the brand has the patented speed type of safety valve.
The tow points are patented aluminum making for a smoother ride.
The body pads are from EVA, so they are quite comfortable. The nylon cover is stitched two times to give better hard-wearing quality. The PVC bladders are also quite hard-wearing.
The handles have a design with double webbing foams.
Pros:
Quick preparation.
Comfortable padding.
Easy to manage and carry.
There are no leaks in the bladder.
Cons:
The turns seem a bit tight.
The Warbird from Sportsstuff is the right pick when you want a tube that comprises recumbent seating with high back support and great coziness.
The full nylon cover is durable just like other models from this brand. It includes PVC bladders that lack any leaks.
The tow points are also made of hard aluminum. The construction includes a wide wingspan to make sure the design enables durable performance. The tow points make multiple-person rides safe and easy.
Pros:
The built-in quality is top.
Dope looks and design.
The seats are comfy.
It supports your back.
It gives the smoothest ride.
Cons:
A durable storage bag would have been good.
The solo rider model from Airhead is an excellent choice for towable tubes with about seventy pounds of weight capacity. The design looks for stabile and ensures the rider gets a sense of safe speed and fun.
It is a fun toy to take into the water with ski bindings included.
The seats are inflated and supported at the front for you ready to stand up. The chair supports you with excellent grip and holds while making sure you don't lose balance.
Pros:
It can hold two people.
Lightweight and portable.
Weight holding capacity is good enough.
It looks beach-friendly.
Cons:
Can be a bit unstable in rough conditions.
Another marvellous model from SportsStuff is super stylish. It is perfect for both kids and adults.
The heavy-duty cover looks sleek and uses nylon as the material. The seating is a cockpit type that allows you to balance very well.
The knuckle guards are included with the handles. The handles use double foam to provide a good grip. The PVC bladders are well constructed, and the speed zone is quite sturdy.
The lumbar support is excellent offering comfort for the backrest and also ensuring a smooth ride. The floor is air-cushioned.
Pros:
Durable.
Great toy for kids.
Easy to carry.
It looks bright but sleek.
It carries up to three riders.
Cons:
The one supplied to us did not include a pump. Something to double-check.
Best Towable Tubes Buying Guide
Below are a few important points that will help you narrow down your selections to just a handful.
What number of people will be riding?
There are tubes intended for one rider or a dozen. The cost will, of course, go up the larger you go, so this will be a part of that verdict if you're on a budget. Some people like riding alone, while for others it's just not exciting if you're not in as a unit. Mull over this one sensibly, it will likely border the rest of your choices.
Who will be riding?
It is a big factor if you have children. You can get tubes that are specifically for kids that are good for all and sundry. There are single rider ones that are for two riders, 3…up to a 12. As you go up in the number of people, the prices do increase, so bear that in mind. They come in a range of diverse styles, forms, and shades so there is likely to be something out there that will suit your family's requirements for sure.
Do you care about the brand?
If you're seeking to buy from a leading brand, then Sportsstuff and Airhead is the most respected and trusted towable tube brands.
Budget?
The better quality you choose the higher the price will go. You do get what you pay for. For some buyers, however, the quality is not such a concern for occasional use.
What style do you prefer?
It is one of the more fun evaluations here! You can get standard round tubes in fairly every color, or there are the more remarkable tubes that are formed like whales and things if you want to stand out from the crowd.
The round or donut shape tubes are the old-style shaped towable that seems like an inflated inner tube. You need to lay on top of the donut for a thrilling ride or by relaxing in the hole for a safer feeling. These typical watersports towable provide hand grips and are perfect for one or several riders. These are usually the least expensive.
There is also deck towable tubes that are flatter and seem like an inflated mattress. These are the flawless towable tubes for the thrill chasers. On this towable, the rider(s) rests on their stomach and hangs on with their face very near to the water. It gives them the feeling of speed. Due to the flat form of this water towable, it is also inclined to catch air going over wakes and throughout quick turns making the ride much more thrilling.
And finally, there are ride-in tubes that can hold up to four riders at one time which is excellent for a family or clan of friends to enjoy as one. The riders stay on the floor or "arena" of the towable, much like in a small boat. The level is also higher, so the ride is quite comfortable and smooth. It is a seamless water sport towable for younger kids or those adults who like more comfort and retreat over thrills and spills.
Everything You Need To Know – Towable Tubes
These toys are perhaps the easiest way to take part in water games, the only skill you need is the ability to swim if you fall off the tube, and the capacity to hold on and have fun–so don't be put off by the look of them. It is a great way to have a fun time on the water with your friends, and build up a lot of great memories together.
You'll want the tube itself, a boat and harness or tow rope for pulling it, an air pump and the essential safety equipment. For the sake of security, you'll want to carry life vests for any riders.
Although several people don't use these, it is advisable to have water helmets. These are mainly useful when you have different riders because if both fall off the tube and knock their heads together, they'll be much better off if they're wearing helmets.
When the boat first takes off, the inflatable tube moves gradually across the water, dipping into the waves. Just like while you pull an oar across the water, the inflatable is forcing against all that water ahead in front of it.
As you get going, though, you'll notice the towable seems to be riding above the water, flying over as the riders laugh and scream and have pleasure on this awesome ride. The towable is hydroplaning, which is the aim when you get out on the water.
Other Accessories you need
The main thing you require is a boat to tow your tube. Apart from that, you'll want a pump to inflate the tube. One or two of the tubes come with these to check and see if yours does. A suitable pump can save you time and a lot of effort.
Anyone who thinks of riding on the inflatable has to wear a life vest. Falling into the water is a common event. Having a life vest will also safeguard against unforeseen issues (an intensely strong flow, or a bang on the head).
Take into account wearing water helmets, remarkably when you have several riders. If you're knocked out or confused, even momentarily this can be enormously dangerous. To avoid this state consider getting water helmets, they'll defend your head and help safeguard your safety.
Make sure you have a decent tow rope or harness that doesn't have any wear or tears. These can turn out to be a safety issue, so it is vital that you have a strong rope to use to confer the tube to your boat.
Some Tips to Keep In Mind
Once you have chosen a great new towable inflatable, or you're looking into buying one, you might also be wondering how to be safe while riding it. It is a reasonable concern anytime you're going out onto the water.
And so with a few simple protections, you can ensure you'll have an excellent day out on the water, and several more to come. A towable tube is a sure way to have a lot of fun during your time on the water to make sure it stays that way you must follow these five simple tips for a safe day.
⇒ At no time get on a towable tube without wearing a life vest. It goes for anybody in your group who might be riding on the towable tube, and indeed for the folks in the boat as well. Being a capable swimmer is not sufficient to ensure your safety. You can hit your head and faint or get pulled into a strong current. Always have a life vest and make sure everyone else in your group does, too.
⇒ Wear water helmets when riding your towable tubes, particularly when you have multiple riders. For one, you might bump heads with others if you fall off at speed.
⇒ You should be a good swimmer. Folks slip into the water continually and usually, and it's no big deal unless you're incapable of swimming. With the wake of the boat forced against you, it's vital you're a good swimmer before getting in the tube.
⇒ Observe any posted safety guidelines at the zone where you'll be boating. It may seem very basic, but honestly, this is the rule that mostly gets overlooked. Look for the posted sign with guidelines and take a moment to read it over in case there are any particular things to watch out for.
⇒ Don't drink alcohol even if you are riding on the towable tubes. It is an extra one that often gets ignored but can be a real lifesaver. When you've had some drinks it can impact your ability to behave safely on the water. Having a few shots on your day at the water can be a fun, calming way to spend the day, but please don't get in the tube.
Hopefully, these tips haven't frightened you away from the water! These guidelines are simple and when you follow them, you can help ensure everyone involved will be having many exciting days on your towable tube to come.
Maintenance & Storage
There is some care you need to do once you get the towable tube. For example, you do not want to leave them in the burning sun fully inflated and if you are going to store near the water between use them put them in a cooler area and let a little air out.
Before longer-term storage, the main thing you need to check for is water. Any dampness at all will give you a world of problems, so you want to make sure the whole tube is dry as a bone. If there is any dampness inside fungus will grow, and mold is a setback no one wants to deal with.
Not only will it stink, but it's not just a simple "wipe it clean" kind of job, the mold could cause it to rot to a point where it would be impossible to repair. Making sure that it's dry before storage is the most vital part.
Ensure it is well-deflated, especially the inner lining. Air holds moisture and moisture can cause mold.
The last thing, which a lot of folks don't think about, is making sure there is no direct sunlight where you'll be stowing your towable. The sun, over time, will harm the material leading to leakages and failures.
Conclusion: The best towable tubes can be the perfect choice to get the entire family into a water sport and what does a boat owner love more than devoting their days to the water? A tight budget won't stop you from having fun as there are a lot of budget-friendly choices.
Do you wish to have the best time this summer out on your boat? Then I would recommend investing in a good quality towable tube. Your family will have a lifetime of fun memories.