The first thing I do before getting into a review is to check for a buying guide. And if you google for a deep cycle battery buying guide for marine use, you will find absolutely no websites that will explain that to you properly.
Most of the information on the best deep-cycle battery for trolling motors is either useless or simply wrong and misleading.
I know batteries can be tricky to understand, but not one proper article..!
Really…!
Luckily, I still have my books and enthusiasm for green energy. And that is where the guide after the deep cycle battery reviews is coming from.
Our top picks
Based on certain criteria, I have some clear favourites. They are-
And yeah, I always favour lithium on top of anything. Moreover, the cost per watt consumed was a big factor in choosing the best.
Review of The Best Deep Cycle Battery For A Trolling Motor
Batteries are tricky. Hence, it takes some concentration to understand them. Here are the top deep-cycle battery reviews.
Highlighted Features
Cranking and deep cycle
Spring cell technology
750A cold-cranking amps
Optima designed it for the title of the best deep-cycle marine battery for trolling motors. And it surely is one of them.
It has a marine terminal with a stainless steel stud with a lead terminal. The stud posts are 5/16 inches tall. The battery case is made of polypropylene, which can endure a temperature of 180° Fahrenheit or 82° Celsius.
The AGM battery is, of course, non-spill. And can do both the work of a starting battery and a deep cycle battery for trolling motor.
We found that the battery would last around 2 hours at a constant load of 25 amps. You can also charge the battery faster with a 15-volt constant charger. And the charging time is anywhere from 6 to 12 hours.
Optima has a two-year warranty. However, for professionals, it is a year less. Many other parameters make their warranty policy more conservative such as charging parameters or string battery systems. Nevertheless, the warranty also increases if you are using their chargers and accessories.
PROS
Excellent for marine use
Fast charging
Durable casing
Great warranty
CONS
The warranty policy is a little hard to understand
Could have been a little cheaper
Highlighted Features
1100A (5 seconds) max. discharge current

3% self-discharge rate at 77°F (25℃) per month

Maintenance Free
We think the Renogy 12V Deep Cycle AGM Battery is an excellent choice for standby or daily power needs.
It is a tough battery with a leak-proof design and can be run in various systems, including RVs, off-grid cabins, marine, home backup power supplies, emergency power systems, medical devices, and more. It's a reliable, convenient, and economical rechargeable battery solution.
The stand-out feature we loved is the really long shelf life. We know boats can sit idle over winter and that there need to recharge the battery frequently when not in use. Renogy Deep Cycle AGM Batteries reduce the monthly self-discharge rate below 3% at 77℉ (25℃), which is 5 times lower than their flooded counterparts!
PROS
Long shelf life and low discharge rate
Good performance across a wide temperature range
Maintenance free
2 Year warranty
CONS
Sells out quickly and slow to restock
Highlighted Features
Built-in, push-button battery meter with 4 LEDs

Two 12-volt accessory plugs

60A resettable circuit breaker connected to the top

10A resettable circuit breaker connected to two accessory ports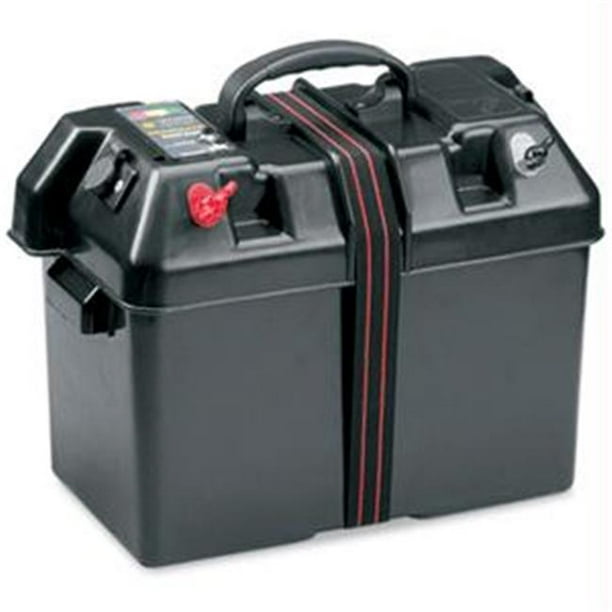 Ideal for small boats, and transom applications (boats that do not have battery compartments), this power center features easy-access external battery terminals that allow trolling motor leads and charger leads to be connected without opening the box. A built-in battery meter displays the current "state of charge."
This battery is ideal for boats that do not have a dedicated battery compartment.
PROS
Very versatile battery
No dedicated battery storage area required
Multiple outlets
Light and easy to carry
CONS
There is nowhere to fit the twist end caps once removed (easily lost in the water)
Y
Deep Cycle Battery Buying Guide
Here is the guide I was talking about in the intro. Hopefully, you will have everything you need to know here.
And, I am pretty sure this is the only worthwhile guide to picking a deep-cycle battery.
I hate to say this, but a lot of battery companies don't show a lot of this information—even some good ones. Everyone will just tell you about the volts and amps of the battery. Things like C-capacity, CCA, temperature, and many other data are missing from their spec sheet.
Chemistries
Now, there are many battery chemistries out there. As we are not preparing for our physics exams, we will just focus on two variants that are the most popular in the market-
Lithium iron is the latest model in the market, and it has only one variant, lithium-ion phosphate (LIFEPO4). Whereas, Lead-acid has the following variants-
Wet-cell (Flooded)
AGM
Gel
Carbon-enhanced
I will not get into the details because that deserves an article of its own. But our recommendations are lithium-ion batteries because that is the cheapest and safest in the long term. Only go for the others if you have a serious problem with the budget. Among the other varieties, I like the carbon-enhanced more.
Capacity
This is the first thing you see in the battery. The amount of capacity entirely depends on your wattage requirement. However, consider 50% of the capacity in all types of lead-acid batteries. You can count 100% of the lithium option.
The capacity could be given in time or amperes. Amps are more common, and they are generally stated for an ambient temperature of 20°C -25°C.
Depth of discharge (DOD)
This tells you the optimum level of discharge that you can have from your battery. You already know that you will hurt the longevity of your battery if you drain it too much. And not discharging enough means you are losing value. So, there is an optimum point that typically varies with the chemistry of the battery.
However, manufacturing efficiency can make a difference. But lithium-ion has no such limits. The discharge amount does not affect it. For other batteries, it is generally 50%.
Position sensitivity
It is a big problem for lead-acid batteries. However, lithium and most sealed batteries don't have this problem. Don't take it if it doesn't give you clearance for position sensitivity.
Resistance
It is the loss of electricity during the conversion of energy. You will find batteries with 1% resistance. And it should be that low if you are paying a good amount of money.
Operating and charging temperature
When looking at this category, don't think of your ambient temperature. Think about the extremes. If you will be working in extreme cold or the extreme heat of indoors or outdoors, see if the battery will take that.
Self-discharge
For AGM batteries, the minimum self-discharge amount should be 2-3%, and for traditional lead-acid, it shouldn't be more than 20%. However, high quality trolling motor batteries will have much better results than that. Lithium-ion should be as low as 1-0%.
Frequently Asked Questions
Here are a few popular questions that outdoorsmen could have-
Q: How long will a trolling motor battery last?
A: In the case of lead acids, it depends on your discharge amount. With 50% discharge, it should be around five or more years. Lithium-ion should be around 8 to 10 years, no matter your usage.
Q: How often should I charge the trolling motor battery?
A: Charge it before and after every trip.
Q: How long does it take to charge a trolling motor battery?
A: Again, it depends on the battery and charger capacity. For instance, a 15 amp battery will take two hours with a regular charger.
Q: How many batteries does a trolling motor need?
A: It depends on the energy requirement of your boat. If you want 10 watts for 6 hours, which is 60 watts, then your battery should be more than 60 watts. So, if one battery is unable to compensate for that, you will need another. However, it is safe to say you might never need more than two.
Q: Why are Deep Cycle batteries best for Trolling Motors?
A: Here, you need more cycles of charge and discharge which is the job of a deep cycle. General car batteries have surge capability, but they can't maintain the continuous flow of power and don't support more deep cycles.
Final Words
Electronics are not easy, especially when it is a rudimentary thing like a battery. So, finding the best deep-cycle battery for trolling motors was not easy.
However, I finally delivered that to you out 3 best options. Hopefully, you will benefit from our review.